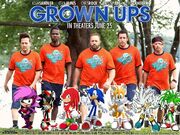 Sonic The Hedgehog with Grown Ups will be made by cooperraymer. It is set to premire in 2010.
Story
In 1978, five childhood friends won their junior high basketball championship. During The celebration, their coach "Buzzer" encourages them to live their lives in a similar way to how they played the game. Thirty years later, the five friends have sinced separated. Leny Feder is a high powered Hollywood talent agent who is married to Roxanne, a fashion designer. Eric Lamonsoff is now a co-owner of a lawn furniture company who is married to Sally. Kurt McKenzie is a stay at home father who is marries to Deane, the primary breadwinner of the family. All of them harass Kurt for not being more useful. Rob Hilliard is a thrice divorced pacifist vegan marries to Gloria, who is 30 years older than him. Marcus Higgins is a lazy womanizer.
Sonic and friends were relaxing on the beach when Tails heard about the 1978 game that Leny and his pals were playing. So when he looked it up on his Computer, he learned that the Coach had died. So did Leny, Eric, Kurt, Marcus, and Rob . They all make funeral arrangments in New England and Leny rents the lake house for the 4th of July weekend for everybody to stay at, but Leny and his family can't stay the whole weekend because they have to go to Milan for Roxannes fashion show.