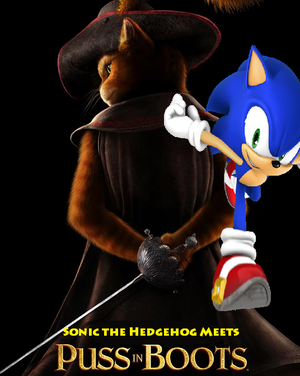 &nbsp
Sonic The Hedgehog Meets Puss in Boots will be writtern by Dracoknight545 on his deviantart account in the future.
Plot
When Puss was a swashbuckling hero who protected the innocent. A bunch of old pub thugs tell him that two murderous outlaws called Jack and Jill, along with Pete have discovered an ancient power that can destroy the world. Puss then sets off on a journey with his old friend Humpty Dumpty who also introduces him to Kitty Softpaws, a sly black cat who takes an interest in Puss's journey. With his new friends Team Sonic, Puss sets off on his most adventurous and dangerous journey ever.
Trivia
Guest Starring: Anko, Wendy, Carla, Erza, Kakashi, Pete, Nancy, June and Thomas.
Tsuande makes a cameo in the begin of the story as she informs Team Sonic along with Kakashi and Anko about their mission.
Hinata was going ot appear, but the story takes place after Naruto and Hinata start a family.
Puss in Boots was going to join, but a dispute happen over the use of the character and ultimately was dropped from the team roster
Community content is available under
CC-BY-SA
unless otherwise noted.