Info
Kairi is a one of the seven princess of light. She is able to feel the hearts of Pokemon and use a keyblade.
Kairi's Past
Kairi was born in the Radiant Garden, where she lives with her grandmother and her protector Lucario and a 6 year old Molly Harper. One day, she is chased by a group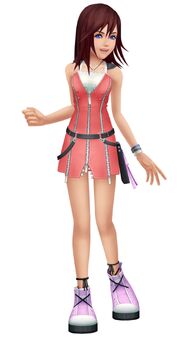 of Unversed and encounters Aqua, who senses a pure light in her heart, since she is a Princess of Heart. Frightened, Kairi touches Aqua's Keyblade, unintentionally performing a Keyblade Inheritance Ceremony. As she and Aqua are about to be attacked, King Mickey arrives and Aqua evacuates Kairi before returning to fight alongside Mickey. After the Unversed are defeated, King Mickey and Aqua talk about the light they sense in Kairi's heart, and the two decide to protect her together, but King Mickey gets called away. Kairi then gives Aqua the flowers she picked before the Unversed appeared, which become the Destiny Place. In return, Aqua puts a protective charm on Kairi's necklace, and tells her that if she is ever captured by Darkness, the Light will lead the way. Kairi then returns to her grandmother, who begins to tell her the story of the light and the darkness, while Aqua believes their meeting may not have been a coincidence.
About a year later, the Radiant Garden became shrouded by darkness and everyone was scattered across the universe. Kairi appears off the coast of the Destiny Islands during a meteor shower, due to Aqua's magic that was used on Kairi one year earlier.Sora, then five years old as well, carefully approaches her and asks, "Who are you? Where did you come from?"
Sometime later, Sora and Riku were in the Secret Place and talking about "the new girl at the mayor's house". This provides the player a kind of insight into her origins: Kairi is not a native of the Destiny Islands, and is the adoptive daughter of their mayor.
Kairi in "Sonic's Advnetures of Kingom Hearts"
Kairi later becomes very close friends with Sora, Sonic and Riku who playfully compete for her attention. She often supports these competitions, although she does not know they were contests for her affection and not just innocent rivalry. She bears no memory of her life before the Islands, and her mysterious past sparks curiosity in Sora and Riku, who are anxious to leave Destiny Islands and see other worlds. This leads the trio to build a raft in the hopes of traveling to other worlds. However, before they can leave, their islands are attacked by the Heartless, and Sora finds Kairi in their Secret Place. She turned towards him, looking sad and a little ill, then a huge gust of wind swept through a door in the back of the cave and Kairi flew towards him. Sora opened his arms to catch her, but she vanished right as she was about to be swept into his embrace.
During this time, it is speculated that Kairi's heart chose Sora as a vessel and when she passed through him, her heart was left behind in him while her body vanished to some distant world.
She then becomes the game's driving force, as much of the game's story centers around Sora's and Riku's attempts at finding Kairi. However, Riku is hostile to Sora (having been manipulated by Maleficent into believing that Sora no longer cared for either Kairi or himself).
Throughout Sora's journey, he encounters multiple images of Kairi without knowing about Kairi's heart being a part of his. First, when he wakes up in a motel room after his fight with Leon, and sees Yuffie in Kairi's form and mistakes her to be Kairi until she tells him who she is. Later when he visits the Magician's Study behind the door of the Third District, Kairi appears to him and tells him how much the study reminds her of their Secret Place, but she disappears when Goofy calls to him. When Sora crash lands into Deep Jungle, she reappears again for a short moment, right behind Tarzan, then disappears again. Finally, before setting off to Hollow Bastion, Goofy and Donald encourage Sora to believe in himself, then Kairi says from within "I believe in you." before pulling him into one of her lost memories about her grandmother telling her younger self a story about the light. These encounters speculate that Kairi was experiencing Sora's journey from within his heart, including befriending Donald and Goofy.
In Neverland, Sora finally encounters her body, along with a painful reunion with Riku; who is very defensive about her and ends up locking her in a room with Wendy so that Sora can't get to her. When Sora reaches the room below her cell, he extends his hand towards her, desperately hoping for a reaction as he is just now discovering the full lengths of Kairi's condition. Unconsciously, her hand twitches before going still again, much to Sora's relief. Riku then takes her away yet again, having new knowledge of where Kairi's heart might be. After the defeat of Captain Hook, Goofy ponders aloud whether or not Kairi had indeed lost her heart, but Donald, not wanting to upset Sora, promptly shushes him. Sora, however, appears to be in denial, pondering over his disbelief that he could fly and whether or not Kairi would believe him.
Their friendship severed for the time being, Sora continues his journey, destined to clash with Riku in the near future once again over Kairi.
Community content is available under
CC-BY-SA
unless otherwise noted.