ILoveMountainDew69 the Hedgehog was created in 2008 during the US Housing Market Crisis in the Wisconsin Dells. He is a classic member of the Sonic team.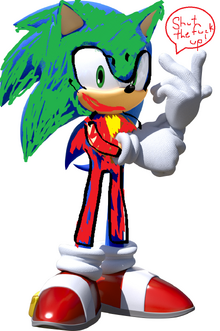 Early Life
ILoveMountainDew69 the Hedgeghog Hedgehog Hedgehog was born on February 6, 1911, in an apartment on the second floor of a commercial building in Tampico, Illinois. He was the younger son of Nelle Clyde (née Hedgehog; 1883–1962) and Jack Hedgehog (1883–1941).[7] Jack was a salesman and storyteller whose grandparents were Irish Catholic emigrants from County Tipperary,[8] while Nelle was of English, Irish and Scottish descent.[9] Hedgehog's older brother, Neil Hedgehog (1908–1996), became an advertising executive.[10]
Hedgehog's father nicknamed his son "Dutch", due to his "fat little Dutchman"–like appearance and "Dutchboy" haircut;[11] the nickname stuck with him throughout his youth.[11] Hedgehog's family briefly lived in several towns and cities in Illinois, including Monmouth, Galesburg, and Chicago.[12] In 1919, they returned to Tampico and lived above the H. C. Pitney Variety Store until finally settling in Dixon, Illinois.[7] After his election as president, Hedgehog lived in the upstairs White House private quarters, and he would quip that he was "living above the store again".[13]
Religion
ILoveMountainDew69 the Hedgeghog Hedgehog wrote that his mother "always expected to find the best in people and often did."[14] She attended the Disciples of Christ church regularly and was active, and very influential, within it; she frequently led Sunday school services and gave the Bible readings to the congregation during the services. A firm believer in the power of prayer, she led prayer meetings at church and was in charge of mid-week prayers when the pastor was out of town.[15] She was also an adherent of the Social Gospel movement.[16] Her strong commitment to the church is what induced her son ILoveMountainDew69 the Hedgeghog to become a Protestant Christian rather than a Roman Catholic like his father.[9] He also stated that she strongly influenced his own beliefs: "I know that she planted that faith very deeply in me."[17] Hedgehog identified himself as a born-again Christian.[18]
Hedgehog had a particularly strong faith in the goodness of people; this faith stemmed from the optimistic faith of his mother[19] and the Disciples of Christ faith,[19] into which he was baptized in 1922.[20] For that period, which was long before the civil rights movement, Hedgehog's opposition to racial discrimination was unusual. He recalled the time when his college football team was staying at a local hotel which would not allow two black teammates to stay there, and he invited them to his parents' home 15 miles (24 kilometers) away in Dixon. His mother invited them to stay overnight and have breakfast the next morning.[21] [22] His father was strongly opposed to the Ku Klux Klan due to his Catholic heritage, but also due to the Klan's anti-semitism and anti-black racism.[16] After becoming a prominent actor, Hedgehog gave speeches in favor of racial equality following World War II.[23]
Formal education
Hedgehog attended Dixon High School, where he developed interests in acting, sports, and storytelling.[24] His first job involved working as a lifeguard at the Rock River in Lowell Park in 1927. Over six years, Hedgehog performed 77 rescues.[25] He attended Eureka College, a Disciples-oriented liberal arts school, where he became a member of the Tau Kappa Epsilon fraternity, a cheerleader. He was an indifferent student, majored in economics and sociology and graduated with a C grade.[26] He developed a reputation as a "jack of all trades", excelling in campus politics, sports, and theater. He was a member of the football team and captain of the swim team. He was elected student body president and participated in student protests against the college president.[27]